Last updated: 7th July 2020
In several lawsuits brought against them in British and Dutch courts, the oil giant Royal Dutch Shell has argued that it was not responsible for the oil spills and other violations committed by its Nigerian subsidiary. This exemplifies how parent companies use their subsidiaries as a shield against liability for human rights abuses occurring in their corporate group.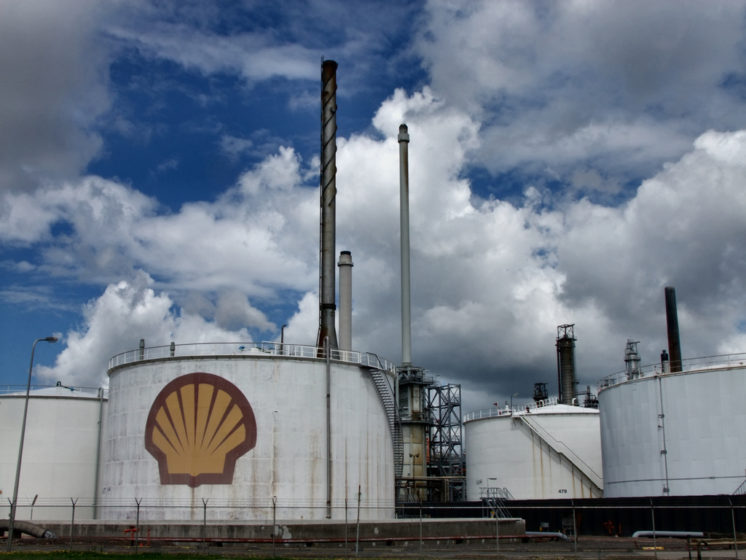 In 2016, 40,000 Nigerians from the Ogale Community and the Bille Community brought law suits against Shell in UK courts for harm to their health and environmental damage to their lands, the result of oil spills in the Niger Delta.[1] They argued that the UK parent company, Royal Dutch Shell, was responsible for the systematic pollution caused by its Nigerian subsidiary, the Shell Petroleum Development Company of Nigeria Ltd (SPDC). The claimants argued that Royal Dutch Shell exercised significant direction and control over its Nigerian subsidiary and was, therefore, liable for its systematic pollution of Ogale and Bille.
On the contrary, Shell argued it could not, in law or in fact, be held responsible for the actions of its subsidiary. It sought to block the claims in London on the grounds that the London-based parent company (Royal Dutch Shell) was not legally responsible for the pollution caused by its Nigerian subsidiary, and that it was open to the communities to seek redress through the Nigerian courts.[2] This was despite the fact that, in Nigeria, cases of this complexity tend to take 20 years or more, a situation the English Court of Appeal recently described as "beyond catastrophic".[3]
Before any documents were disclosed and without hearing oral evidence from witnesses about the relationship between Royal Dutch Shell and its Nigerian subsidiary, the appellate court ruled in favour of Shell, concluding that the parent had no legal responsibility for the systematic pollution of the Nigerian communities by its Nigerian subsidiary.[4]
Lawyers for the plaintiffs launched an appeal, based inter alia on a 2012 European Court of Justice ruling that the Shell parent company "…in fact exercised decisive influence over their joint subsidiary's conduct".[5] They also cited a 2015 Dutch Court of Appeal ruling that found, "Considering the foreseeable serious consequences of oil spills to the local environment from a potential spill source, it cannot be ruled out from the outset that the parent company may be expected in such a case to take an interest in preventing spills …. the more so if it has made the prevention of environmental damage by the activities of group companies a spearhead and is, to a certain degree, actively involved in and managing the business operations of such companies…."[6] In July 2019, after awaiting the outcomes of a similar lawsuit, the UK Supreme Court finally gave the plaintiffs permission to appeal.[7]
The case of the Ogale and Bille communities against Royal Dutch Shell is not the only lawsuit in which Shell has used this litigation strategy. The parent company has been sued by affected people from Nigeria multiple times in both UK and Dutch courts, and it has used this tactic on several of these occasions.[8] While the strategy to shield the parent from the subsidiary has been successful to date in this case, recent rulings by Dutch and British courts provide indications that parent company liability for human rights violations by their subsidiaries is no longer ruled out.[9] 
Royal Dutch Shell was invited to review this case study before publication. In its response, the company expressed its disagreement with our presentation of the case, and reiterated that the Nigerian justice system is the proper forum to deal with liability for oil pollution in Nigeria.[10]
[1] Nick Mathiason, "Human rights abuses? Blame the parents," The Guardian, December 9, 2011, https://www.theguardian.com/global-development/poverty-matters/2011/dec/09/human-rights-abuses-blame-parents (accessed October 21, 2019); Okpabi & Ors v. Royal Shell Plc & Anor (Rev 1), EWCA Civ 191 (2018), http://www.bailii.org/ew/cases/EWCA/Civ/2018/191.html (accessed October 21, 2019).
[2] Okpabi & Ors v. Royal Dutch Shell Plc & Anor (Rev 1), 191 (England and Wales Court of Appeal, Civil Division February 14, 2018).
[3] IPCO (Nigeria) Limited v. Nigerian National Petroleum Corporation, 16 (United Kingdom Supreme Court March 1, 2017).
[4] LeighDay, "Lawyers for Nigerian villagers to appeal against judgment barring them from bringing claims against Shell in the UK," January 26, 2017, https://www.leighday.co.uk/News/News-2017/January-2017/Lawyers-for-Nigerian-villagers-to-appeal-against-j (accessed October 21, 2019).
[5] Shell Petroleum NV and others v. European Commission, T343/06 (European Union General Court September 27, 2012).
[6] Dooh, Vereining Milieudeensie v. Royal Dutch Shell Plc. and others, ECLI:NL:GHDHA:2015:3586 (Gerechtshof Den Haag, Afdeling civiel recht December 18, 2015).
[7] Business & Human Rights Resource Centre. "Shell Lawsuit (Re Oil Spills & Ogale & Bille Communities in Nigeria – Okpabi v Shell)." Accessed March 31, 2020. https://www.business-humanrights.org/en/shell-lawsuit-re-oil-spills-ogale-bille-communities-in-nigeria-okpabi-v-shell.
[8] Blackburn, Daniel. "Removing Barriers to Justice: How a Treaty on Business and Human Rights Could Improve Access to Remedy for Victims." SOMO / ICTUR, August 2017. https://network.somo.nl/wp-content/uploads/2017/08/Removing-barriers-web.pdf.
[9] Croser, Marilyn, Martyn Day, Channa Samkalden, and Mariëtte van Huijstee. "Vedanta v Lungowe and Kiobel v Shell: The Implications for Parent Company Accountability," December 2019. https://www.researchgate.net/publication/337713620_Vedanta_v_Lungowe_and_Kiobel_v_Shell_The_Implications_for_Parent_Company_Accountability.
[10] Shell. "RE: Review announcement case description Shell," May 4, 2020.